With over 30 years' experience, our teams deliver award winning, high-quality care.
Residential Care
Our Residential Care provides comfort and peace of mind, tailored around each individual and their own unique needs. Designed for those who simply require support with everyday activities, such as mobility, or help with washing, dressing, or eating in a caring environment. You will always find our well-trained and dedicated team members on hand to assist, providing the highest quality of care.
We support residents to live fulfilling, rewarding and happy lives by offering a fun and engaging social program, so that residents can continue to enjoy past interests while exploring new activities. Our residents enjoy tasty home-cooked food in a comfortable, homely and compassionate environment. Families and friends can join in with our daily activities offering reassurance that resident's happiness, wellbeing, independence and safety is at the heart of everything we do.
At Adept, we work with you and your loved ones to create your own bespoke care plan after an initial assessment with our manager, in the convenience of your own home. We ensure on-going communication with our residents and their families to ensure the level of care is as unique as you are and works to support your wellbeing, catering to personal preferences and capabilities.
Respite Care
Our 'Respite Care' is short term care designed to assist with the recovery from an operation or illness with the support of our excellent care team and our facilities. Respite stays are a minimum of two weeks but you can stay for as long as you like. Individual care plans are tailored to each resident's requirements to help and support their recovery and restore their confidence and independence as soon as possible.
Our high-quality care in homely surroundings, provide residents with the best chance of a full recovery. Many of our respite residents enjoy their stay so much that they decide to remain with us after their recovery.
Are You Caring For A Loved One?
If you care for your loved one it's important to take a break from care if you need one. Contact us to find out about respite care and how you can arrange it.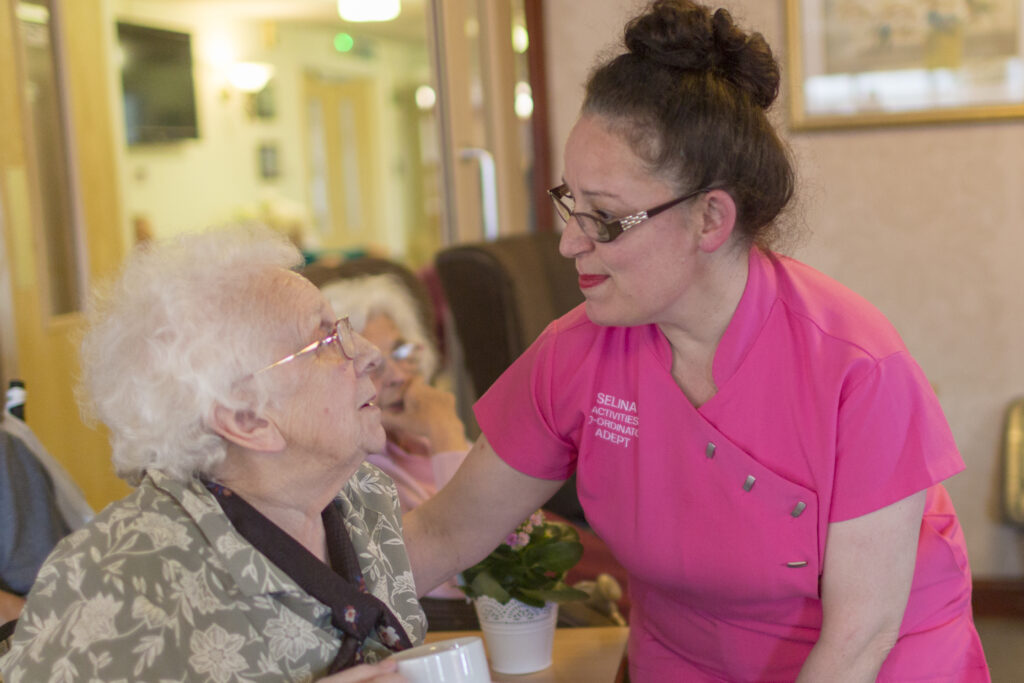 Day Care
Your loved one or family member doesn't need to be a resident to benefit from the dedicated daily support at one of our friendly, welcoming care homes. We provide a comfortable, safe place to enjoy a little extra company and stimulating activities in a homely environment. Residents and day visitors are treated in the same caring and supportive manner with many enjoying the opportunity to make new friends.
Contact us today to come and see our facilities as a real 'home from home' where they can socialise and receive daily living support from our caring team.
Dementia Care
Making the decision to move a loved one into a dementia care home is one of the hardest decisions a family can make. At Adept, our dementia care has a simple, person-first approach. We recognise that dementia care can be complex and is unique to each individual. We put our residents' needs at the heart of everything we do, from the care plans shaped around each individual we look after, to the delicious, home-cooked food that takes personal preferences and nutritional needs into account.
We know that people living with dementia can live well and even thrive as we witness this every day throughout our homes. We continue to focus on what a person can do rather than what they may struggle with, whilst ensuring we continue to provide enrichment and do the things that truly make them smile, ensuring that all our residents feel understood, content and safe.
Our professional, experienced, team provide high-quality care with skill and empathy. Having received mandatory and advanced training, delivered by Adepts Dementia Manager who works across all the homes supporting our residents, their families, and our team.
By taking the time to engage with and get to know the people in our care, listening to their stories and understanding their personality, enables us to develop strong, lasting relationships with residents, their families and their friends.
A Word From Our Dementia Manager
As Adepts dedicated Dementia Manager my job is very rewarding, I've worked in dementia care for 34 years in a variety of settings from pre-diagnosis to advanced dementia. I spent some of that time working for the Alzheimer's society and became an approved trainer, throughout the UK. I enjoy residential care as I get to support our wonderful residents living with dementia at many different stages with very different needs.
Knowing I've made a difference to both the residents and the team's day motivates me to keep doing what I do. Playing my part in making our resident's life the best they can be, is what drives me and the company forward.
I have over 34 years of experience working with people living with dementia, from pre-diagnosis to advanced dementia stages. I worked with the Alzheimer's society and became an approved instructor across the UK for dementia awareness training. Adept Care Homes allows me to help our team support our wonderful residents, who are living with dementia, at any stage of their diagnosis.
Dementia Manager
Dementia Services Available For
Our residents
One to one support
Behaviour support
Dementia training
Dementia Buddy scheme
Dementia Café
Our families
Telephone support
Email support
One to one support in the home
Dementia awareness sessions
Dementia support groups
Peer support groups
Dementia Cafes
Information and Literature
Our team
Dementia training generic and bespoke
Dementia support
Mentoring guidance and on the floor training
Information literature
Dementia leaders training
Dementia leaders focus groups