Joan Daniels (100), celebrated her 100th Birthday at her home, Douglas Court Care Home in Derby. Joan has only one surviving relative, a niece, who surprised her with a visit on the morning of her birthday.
Douglas Court, who usually celebrates every resident's birthday with an extravagant party and a special visit from their family, wanted to make this birthday extra special. Douglas Court's team arranged a 'day at the races' and a special delivery to surprise the centurion. With a special guest, Alfie the Horse delivering a bouquet of flowers and the Queen's telegram, together with lavish birthday celebrations, a royal themed garden tea party and live entertainment to mark this, her milestone 100th birthday.
Joan says, "the key to a long and happy life is good company, being happy and enjoying life" and since moving into Douglas Court "I have met some wonderful people too. I don't feel 100, I don't feel a day over 21."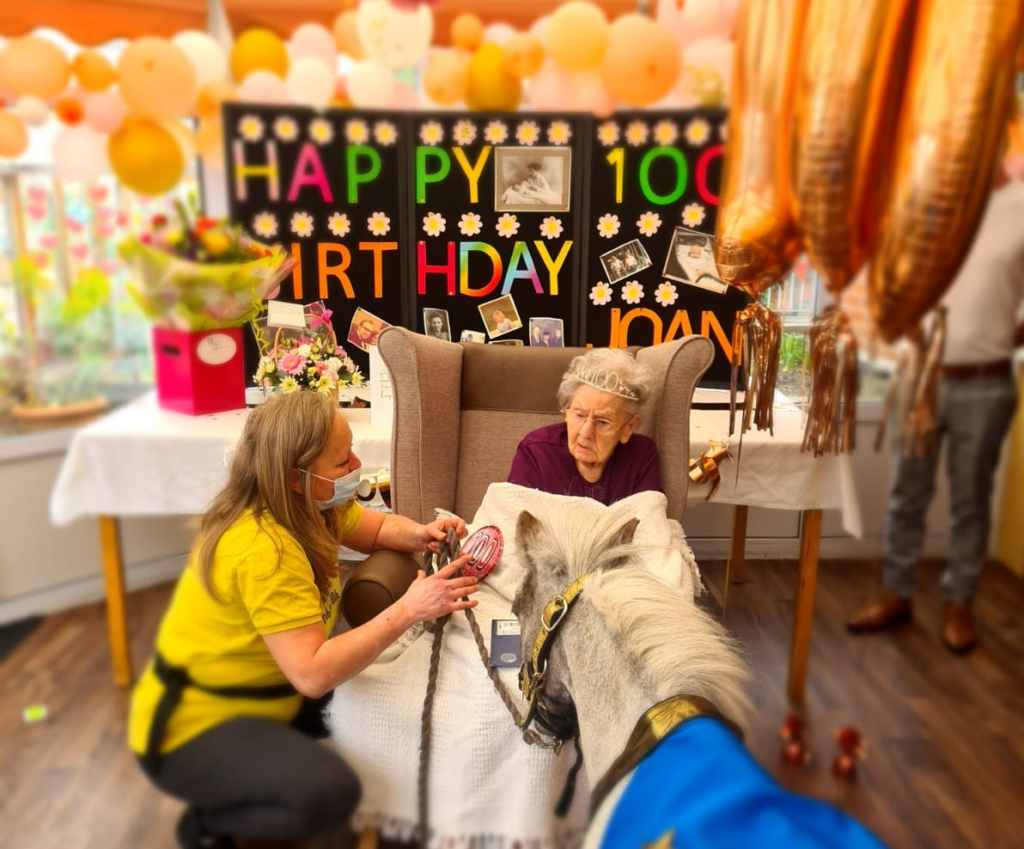 "We know family has always been very important to Joan and as they couldn't all be here to celebrate with her, we, her family and friends at Douglas Court wanted to host a celebration she would cherish for this extra special milestone!' explained Kate Gilvear, Douglas Court Manager. "The delivery of the telegram was a wonderful touch and certainly sparked lots of conversation. Joan likes to be involved in the engaging and active social program at Douglas Court, she loves to chat over a cup of tea during the 'Knit'n'Natter' club. She is always happiest with people around her."
"This has been very special; the horse was such a surprise! I'm very grateful to my friends at Douglas Court for making this day perfect" added a slightly overwhelmed Joan.