Local Coventry Care Home, The Knowles says "Thank You" to their local One-Stop Shop in Tile Hill after the Shop Manager nominated them to receive a £500 grant and ongoing support as part of their work with the Alzheimer's Society and Dementia Friends.
Residents from the Knowles Care Home in Coventry visited the store on Station Avenue to present the store manager and team with a bunch of flowers to say Thank you.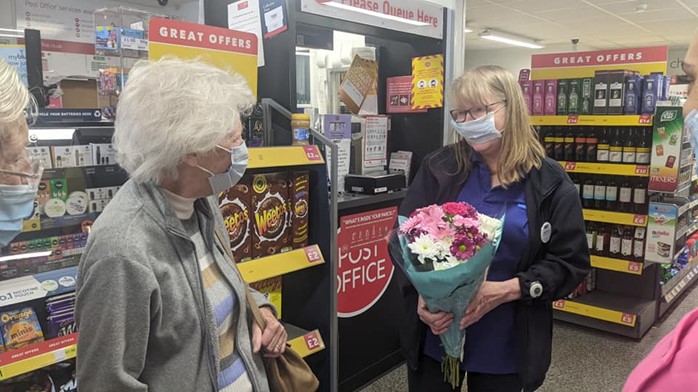 Residents from The Knowles present One Stop team with a bunch of flowers to say thank you
"I can't believe they chose us, its so lovely to be included. Do you know, the local shop is always an integral part of any local community? Everyone knows everyone!" said Phyllis Williams (86) who enjoyed her work, selling confectionary and still enjoys a walk to the local shop for an ice cream or even a just a browse.
Over the last few months, the retailer has asked its 10,600 colleagues – the length and breadth of the UK – to nominate a group or charity within their community who they felt deserved a donation of Easter Eggs. Tracey donated an Easter Egg to each of the residents at The Knowles but has since agreed to provide ongoing support with events and parties.
"We are just so happy we can help, our local convenience stores connect with local community group, supporting the elderly and we have served the residents at team from The Knowles for years. Our support can include anything from funding to fundraising, volunteering and raising awareness. Residents are always welcome to visit the store for anything they need." said a spokesperson for The One Stop.