Douglas Court upskills their hospitality team with industry-leading training to ensure residents are 'served up' a fine dining experience.
Douglas Court Care Home in Derby knows that it is their team who are the key to a smooth and seamless meal-time experience for their residents. Douglas Court is providing ongoing training, so the team feels confident with creating, serving, and presenting a fine dining experience to the residents.
"The food here is heavenly, we are served at our table, just like a restaurant and there is always a good choice on the menu. The best thing is sitting with the other residents and enjoying the evening which you will never get at home on your own" said Harriet, a resident at Douglas Court who enjoys gardening, growing her own vegetables and weekly baking club.
Residents Are Getting A Taste for the Finer Things in Life
"We've just been through another round of training," says Kate Gilvear, Home Manager. "For the team, the training sessions have been hugely beneficial. We wanted to develop the kitchen teams' sense of ownership and make them feel included as part of the whole experience as well as key interaction with the residents, which has played a huge part in helping us to achieve that."
"Both front and back of house, work collaboratively to create a harmonious process of preparing and serving food. The menus have been extremely well received, with exceptional feedback from residents and their families. It's the feedback that we receive which reinforces that 'we are serving up' a positive, resident focused and enjoyable meal-time experience" said Hospitality Manager, Rebecca Lambert.
"We couldn't have wished for a better care home for our mum. She has always told us about the wonderful staff and the care she receives. She has said more than a couple of times when we visit, she likes the 'hotel' she's staying at! She has told us the home-cooked food is marvellous!" said Jane, a relative.
Other themed events at the home include Mocktail Mondays, coffee mornings and Fish Fridays but despite the wide range of dishes and events on offer at the home, one dish remains a diners' favourite – Sunday best, roast chicken dinner.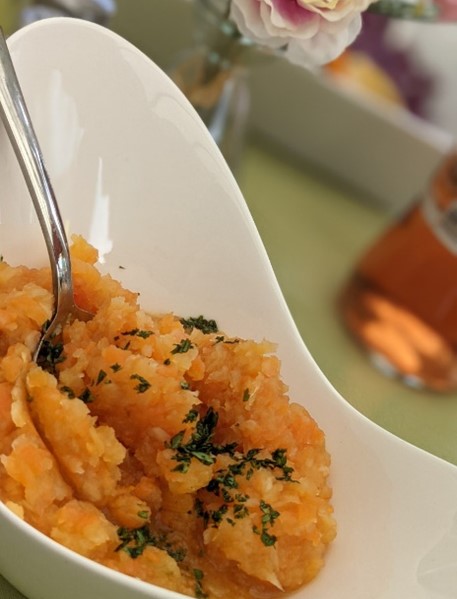 Douglas Court team participate in 'silver service' training to serve up a fine dining experience for residents.